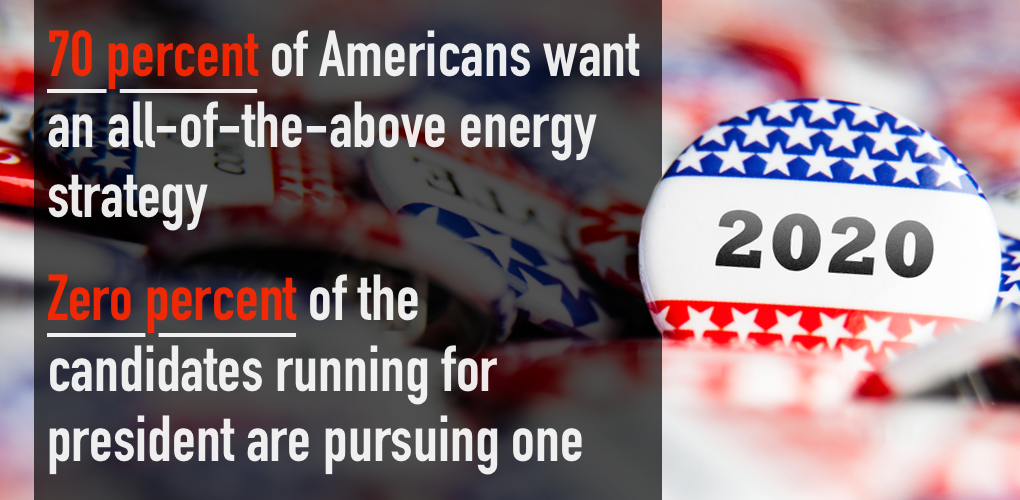 Lost in the noise of what candidates and pundits want for the nation's energy future is what Americans want. While the rollout of candidates' energy plans has turned into a game of one-upmanship on who can ban the most sources of energy or spend the most taxpayer money in the least amount of time, the public isn't reading from the same sheet of music.
Environmental progress is a priority for Americans, but the vast majority of voters aren't looking for a radical, overnight transformation of our energy systems.
Recent polling from Morning Consult found that 70 percent of Americans want the U.S. to pursue an all-of-the-above energy strategy that includes natural gas, coal, renewables and nuclear power. The very same polling found that a majority of Americans support government action to upgrade the nation's coal fleet.
Affordability and reliability of the nation's energy supply remain primary concerns even if most candidates seem oblivious to them. As the U.S. Energy Information Administration has reported, one in three American households are facing challenges in paying energy bills. Those challenges can include foregoing necessities like food or medicine to keep the lights on or to keep a house comfortable during sweltering summer heat. There's also the recognition that the competitiveness of entire industries, and the millions of jobs they support, depends on the affordability of the nation's energy supply.
The message is clear: voters believe the nation should aim to reduce emissions but do so without imposing regressive costs. Unfortunately, that's not the approach many are getting.
Even putting aside the unreasonable and unworkable plans pushed by presidential candidates that are heavy on trillions in spending but light on page count, state energy policies already in place are eating away at the affordability and reliability of the grid. Increasingly ambitious renewable portfolio standards are imposing rising costs on consumers while pushing essential baseload power plants into early retirement.
While it can be difficult to sort through the thicket of factors that affect electricity prices, research from the University of Chicago released earlier this year found that signing up for renewable portfolio standards "increases electricity prices, full stop."
A record number of utility rate cases adds to the evidence that while consumers may not realize they're paying more to integrate renewable energy, they are. Electricity prices have either already gone up in states aggressively pursuing wind and solar power, such as in California where electricity prices have jumped 25 percent since 2013, or the ground has been laid for increases to come. Even as the per turbine or per panel costs of wind or solar energy fall, the system costs of integrating increasing amounts of variable power are going up.
While Americans want a balanced approach to energy policy that preserves affordability and reliability, they're instead getting the opposite and are being forced to pick up the tab. When asked to vote directly on carbon taxes or mandates that would increase the cost of their energy, time and again, both here and abroad, voters are rejecting those proposals. Isn't it past time policymakers start listening instead of telling?