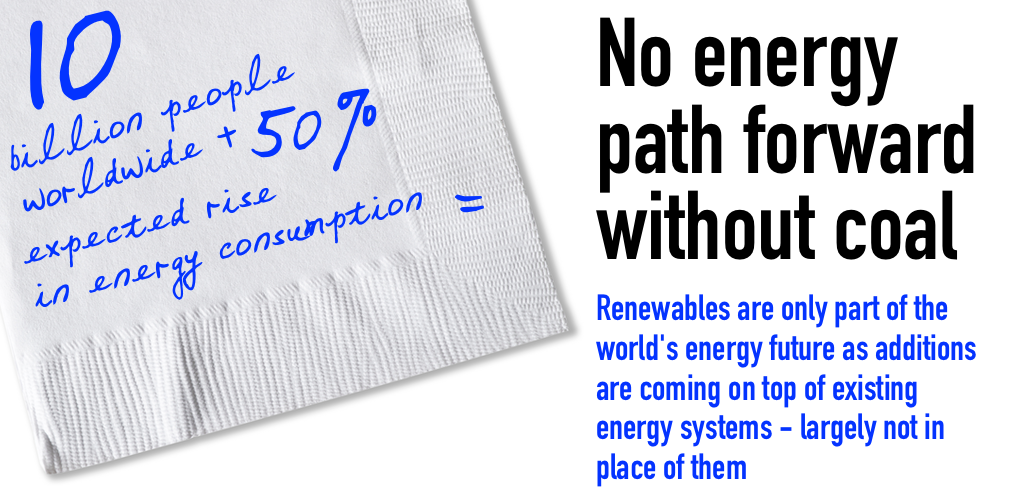 U.N. Climate Week has delivered no shortage of rhetoric and theatrics, but not nearly enough focus on energy reality and replicable solutions.
Amid the summit, the U.S. Energy Information Administration released its International Energy Outlook, projecting that global energy consumption is expected to increase 50 percent by midcentury as the global population surges towards 10 billion. It was an important reminder that as energy demand soars, wind and solar power additions are coming on top of existing energy systems, largely not in place of them.
In other words, the percentage shares of coal and oil in our energy supply have fallen with the emergence of alternatives, but their total use continues to grow. Global oil production has reached 100 million barrels per day. Coal remains the leading fuel for electricity generation, supplying nearly 40 percent of the world's power. Hundreds of new coal plants are under construction or planned across multiple continents. According to the International Energy Agency (IEA), we are in the midst of the "golden age" of natural gas. Fossil fuels – which meet nearly 80 percent of the world's energy needs – remain as essential today as ever before.
And to put a finer point on it, there's no energy path forward without coal. As The New York Timesreported, previewing the U.N.'s Climate Week, "Among the first countries to appear at the summit meeting on Monday will be India. The vast majority of its electricity comes from burning coal, and it continues to develop new coal mines and new coal-fired power plants, often with state subsidies, even as it ramps up renewable energy. Later in the morning comes Indonesia, the world's biggest exporter of thermal coal. China, the world's coal juggernaut, will follow later in the day. So, too, Pakistan, Bangladesh and Kenya — three countries where Chinese state-owned companies are building, or want to build, coal-fired power plants."
The math – that basic back-of-the-napkin calculation – tells us that renewables are, at best, only part of the path forward. Any serious effort aimed at reducing emissions will place just as much weight – if not more – on technologies that reduce emissions from the fuels and energy infrastructure the world currently leans on, and will continue to lean on, well into the future. It's a reality that decisively calls for innovation.
Energy security, efficiency and cost competitiveness will continue to dictate the path forward. Replicable solutions won't be policies that tax consumers or mandate more expensive energy, but rather those that work with existing energy infrastructure and deliver, low-cost, secure and affordable energy that can power industrialized nations and those working to industrialize.
Unfortunately, those that claim to care the most about reducing emissions in this country seem far more determined to boost wind and solar power than they do about producing the replicable solutions that work both here and in India, Kenya or China. While the Green New Dealers won't even consider technologies other than renewables, the energy experts are singing a very different tune.
Fatih Birol, director of the IEA, earlier this year called carbon capture – not wind or solar generation – the "most vital" technology to reducing emissions. He – and the IEA experts – understand that fossil fuels will remain the lifeblood of the global economy for decades to come. Using these fuels more efficiently and producing cost-effective technologies to reduce, capture and utilize their emissions can't just be a complement to the global approach to emissions reduction; it needs to be a centerpiece.
Let's stop demonizing the fuels that are the foundation of our standard of living. These are the fuels that drive our economy, that are industrializing nations and pulling millions of out of poverty every year. Coal is here to stay. It's past time energy and environmental policy embrace it.