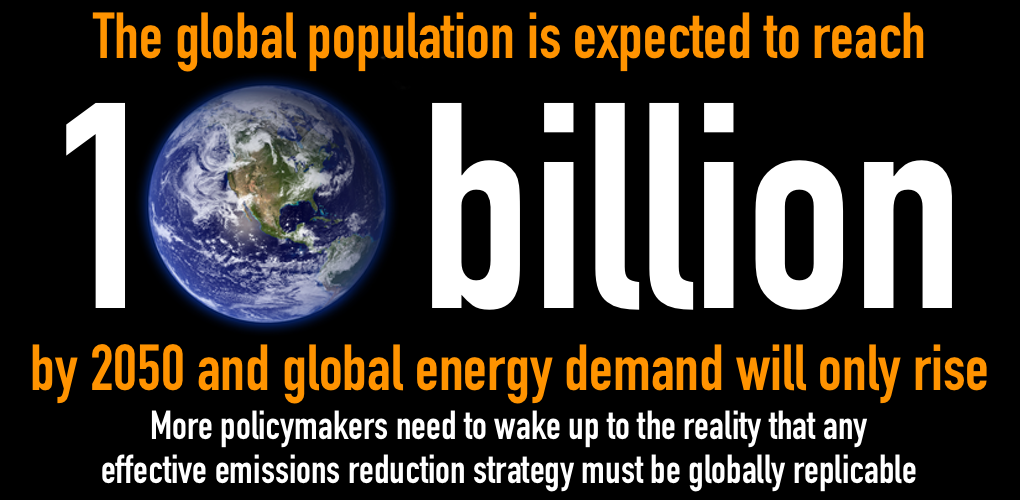 As the great climate debate continues to dominate the news – Green New Deal? Green Real Deal? The Green Dream? – more policymakers need to wake up to the reality that any effective emissions reduction strategy must be globally replicable. Policy, and most importantly technology, must be advanced that can effectively slash emissions in the richest nation on earth and in places where energy poverty and energy access remain immense hurdles.
Nearly 80 percent of global energy demand is met with fossil fuels. That percentage isn't expected to change significantly over the coming decades. For much of the world, the rapid addition of renewable energy is coming in addition to, not in place of, ever-growing dependence on coal, oil and natural gas. Hundreds of millions of people lack electricity and hundreds of millions more are energy impoverished. Global per capita energy consumption is growing. The global population is expected to reach 10 billion by 2050. Global energy demand will only rise.
Replicable emissions reduction strategies are going to require technology breakthroughs. Even global-minded proposals to use U.S. trade policy to promote emissions-cutting policies abroad would be of little use unless they are complemented by technology exports that help developing nations cut emissions while still providing the affordable, secure and reliable power they require.
We need less Mayor Bloomberg and more Bill Gates. Targeting one fuel in one country is effective at putting hardworking Americans out of work, but it's not a global solution to a global problem.
Encouraging the construction of new low-emissions or emissions-free technology is only part of the challenge. The larger hurdle to overcome is working with existing energy infrastructure. Electricity grids built for baseload power cannot be easily scrapped or rebuilt, nor should they be. The grid we have – the grid others have – will largely be the grid of the future. The same holds true with existing electricity generating capacity.
Asia's coal fleet, for example, is on average just 11 years old. That fleet of 2,000 GW of capacity will remain the engine of industrialization for decades to come. Another nearly 500 GW of new global coal capacity will soon join those plants. Despite shrinking coal fleets in the U.S. and parts of Europe, coal is here to stay. Affordable, abundant and secure, it remains the world's leading fuel for electricity generation
According to the International Energy Agency (IEA), the world also finds itself in the "golden age" of natural gas. Global natural gas production, trade and consumption have never been greater. Oil demand recently surpassed 100 million barrels per day. While electric vehicles are poised for accelerating adoption, passenger vehicles account for less than 30% of global oil demand. Electrification may be coming but the end of the age of oil is hardly a sure thing.
Global energy systems can't be turned on a dime. The vastness, complexity and utility of these systems that deliver power, light, warmth, sustenance and information should tell us not to make an enemy of fossil fuels but rather to set our sights on emissions.
Earlier this year, Fatih Birol, director of the IEA, called carbon capture – not wind or solar generation, or battery storage – the "most vital" technology to reducing emissions. His point was not to dismiss any technology – he spoke of the necessity of them all – but to acknowledge that fossil fuels will remain the lifeblood of the global economy for decades to come. Using these fuels more efficiently and producing cost-effective technologies to reduce, capture and use their emissions can't just be a complement to the global approach to emissions reduction, it needs to be part of the foundation.