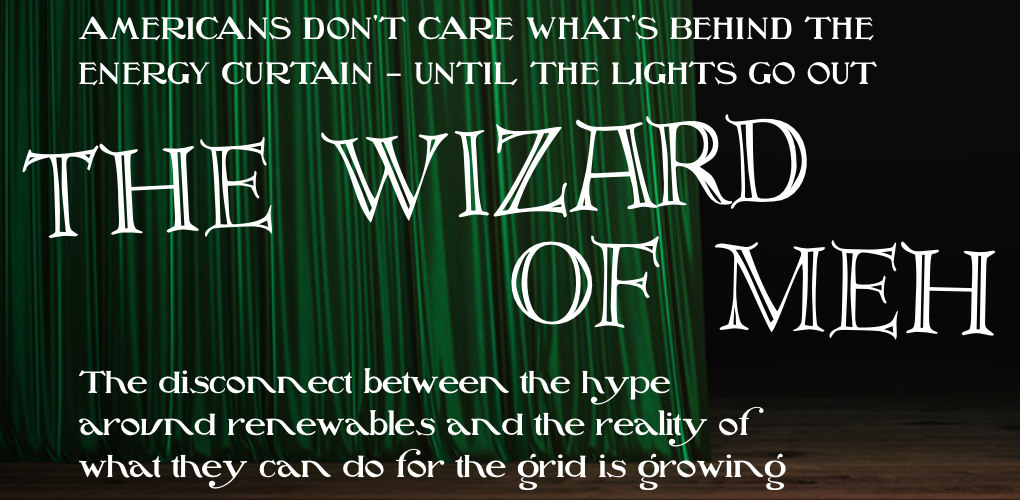 As Americans cranked up their air conditioners to gain relief from sweltering mid-July heat, the grid called for all-hands-on-deck to keep the power flowing. Soaring electricity demand was met by every power plant utilities and grid operators could throw at the challenge. Thankfully, for most Americans, the lights and the AC were there when they needed them.
But what did it take to keep those tens-of-millions of ACs humming? The truth is most Americans don't know. Affordable, reliable power is what they want and as long as they get it, why care about what's happening behind the curtain or below the hood.
The problem, of course, is that the grid as we have known it is being upended. Deepening reliance on intermittent wind and solar power and an overstretched natural gas transmission system, has grid experts deeply concerned. But instead of pumping the breaks or making course corrections to better value a balanced, diverse mix of fuel sources, coal plants continue to close and renewable portfolio standards are growing increasingly ambitious while the Green New Deal, or plans that resemble it, have become mainstream policy ideas.
The disconnect between the hype around renewables and the reality of what they can do for the grid is growing. New polling from Morning Consult tells an alarming part of that story. When Americans were asked if solar and wind technologies can provide the U.S. electric grid with the power needed to keep the lights on 24 hours a day, seven days a week, just one in four Americans understood that wind and solar cannot provide constant power to the grid. That means an alarming three quarters of Americans are supporting or opposing certain energy policies without a basic understanding that wind and solar are only capable of providing intermittent power – and that battery technology is not yet advanced enough to bridge the significant gap. Whether it is coal or natural gas, another source of dispatchable power is required to keep the lights on. And yet activists are campaigning to push these other sources of constant power off the grid, with no backup plan for what happens when they're not there.
Considering the prominence renewables have gained in our culture, or the promises and vision cast by presidential candidates, it's no wonder that Americans believe wind and solar can do it all. Why would they know that there's no large-scale, complex grid in the world powered by more than 30 percent wind and solar generation?
They surely aren't aware that the German Energiewende has produced electricity prices four times what they are in the U.S. They haven't heard of the duck curve and the ramping issues now such a challenge in California. Nor are they aware that temporarily uncooperative weather is the least of the challenge with renewables; it's the seasonal swings in generation that are the far higher hill to climb. The hype machine has been on overdrive and the downsides appear inconsequential. But for the engineers tasked with making the system work, the challenges are very real even if consumers aren't aware of them. The reliability of the grid is being tested, and the affordability of our power is now under pressure as well.
Follow the Rate Cases
The U.S. Energy Information Administration recently reported that the number of utilities filing rate cases, the vehicle regulated utilities use to change rates with public service commissions, is now at its highest number since 1983. Of the 89 utilities filing rate cases last year – nearly half of all major U.S. electric utilities – 78 proposed rate increases.
As the EIA so generously puts it, "Regulated electric utilities can request rate changes to help recover expenses for building, operating, and maintaining their electric generators, transmission and distribution equipment, and other buildings and equipment. In addition, utilities have the right to earn a return on their investments." Emphasis added.
The incentive for utilities – and their shareholders – is to build new and to pass that cost onto their customers. The addition of wind and solar power and the catch-all term of "grid modernization" is coming with mounting costs. In California, for example, electricity prices have jumped 25% since 2013 and are poised to rise even further.
Utilities may now market themselves as the drivers of a green future, but they are trying to milk renewable mandates and renewable subsidies for every dollar they can. New rate cases mean new profit. Just last year, utilities tried to push through $6.8 billion in higher rates to consumers. Fortunately, public service commissions approved only $2.8 billion of those requests. Ratepayers are just now beginning to see the costs of the renewable mandate. How long will public opinion stand behind more expensive, less reliable power? We are poised to find out.