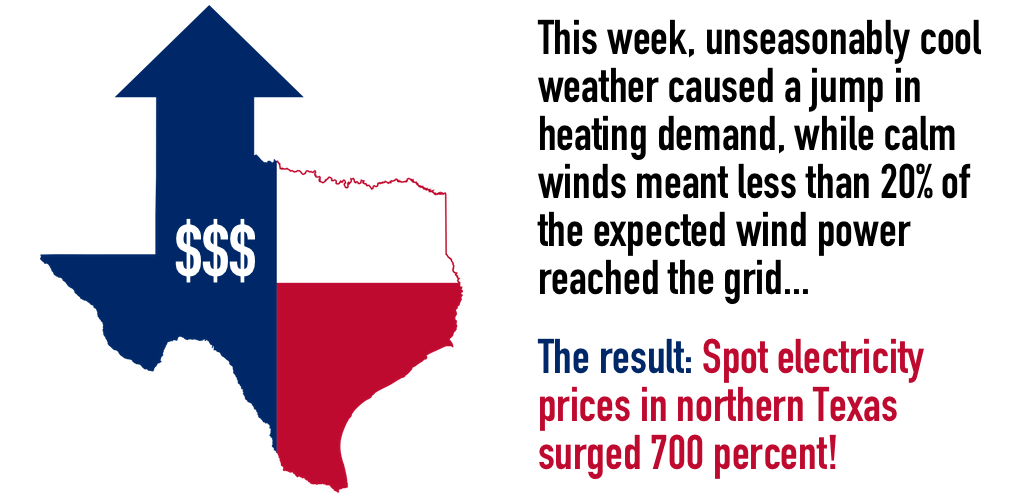 Texas got a taste of cooler than expected weather this week and it sent shockwaves across the state's electricity market. The Lone Star State learned a valuable lesson about putting too much faith in intermittent renewables.
Temperatures dipped Monday morning, increasing heating demand, and that cooler weather was accompanied by calmer than expected winds. Calm winds meant that Less than 20 percent of the power that was expected to come from wind turbines was actually delivered. The result: spot electricity prices in northern Texas surged 700 percent.
Early spring is not supposed to stress the Texas electricity grid. Stress is expected during the scorching heat of summer when air conditioners across the state send electricity demand soaring. This week's surge in electricity prices provides little comfort to those that have warned Texas is particularly ill-equipped to meet the electricity demands of approaching summer heat.
The Electricity Reliability Council of Texas (ERCOT), the state's grid operator, is keeping its fingers crossed that it won't have to impose rotating outages this summer when electricity demand could surpass supply. The reserve margin of plants available this summer when demand will be at its peak is expected to be just 7.4 percent, about half of the target. In other words, the state will have a razor-thin margin of spare electricity-generating capacity to keep the lights on should broiling heat require additional generation or if the wind – as it did this week – stops blowing.
DeAnn Walker, the chairwoman for the state's public utility commission, called an earlier projected reserve margin for this summer "very scary." Since her comment, that reserve margin has shrunk even further. Baseload power plants – particularly coal plants – are disappearing from Texas' grid. In 2018,  three major coal plants closed, totaling nearly 4,300 MW of generating capacity – about 20 percent of the state's coal fleet. Another coal plant was mothballed earlier this year.
How is it that Texas is losing vital baseload capacity when the state's reserve margin is so slim the chairwoman of the public utility commission has called the situation "very scary?" The same plants that have been the foundation of reliable power in the state are being forced off the grid precisely when they are needed most. Clearly, something is terribly wrong.
At the root of the problem is an electricity market that isn't pricing reliability. It's another example of a virus that appears to be affecting regional electricity markets across the country. Dispatchable, baseload power plants that can provide power when its needed, are not only not being properly compensated for this critically important service, they're disadvantaged against competing wind and solar plants collecting out-of-market subsidies.
We know how much power a coal plant can generate on any given day – you can plan around that kind of reliability. By contrast, due to the whims of the weather, there is no way of knowing how much electricity renewables will generate on a given day. And yet, markets are treating renewables as if they offer the same kind of predictable power.  The whole market system is being undermined, and instead of decisive action to address the problem, warnings are either being dismissed or met with hand wringing.  Electricity price spikes – such as the one we saw this week – appear to be the tremors foreshadowing the shock to come.
Ed Hirs, an energy economist with the University of Houston, sees the need for major changes to the market. He told E&E News earlier this year, "When the ERCOT market implodes, it's not going to be a surprise to anyone."
Texas may soon be the worst kind of case study. If the electricity market does implode this summer, if consumers are met with price spikes, or if brownouts or even blackouts shroud parts of the state in darkness, there will be no denying something must change.
As long as electricity markets continue to treat renewable sources of energy as equals to their dispatchable, baseload counterparts, it won't be a matter of if we see a catastrophic reliability crisis but when. For the sake of the millions of Texans who are counting on reliable power, let's hope that crisis doesn't arrive this summer.