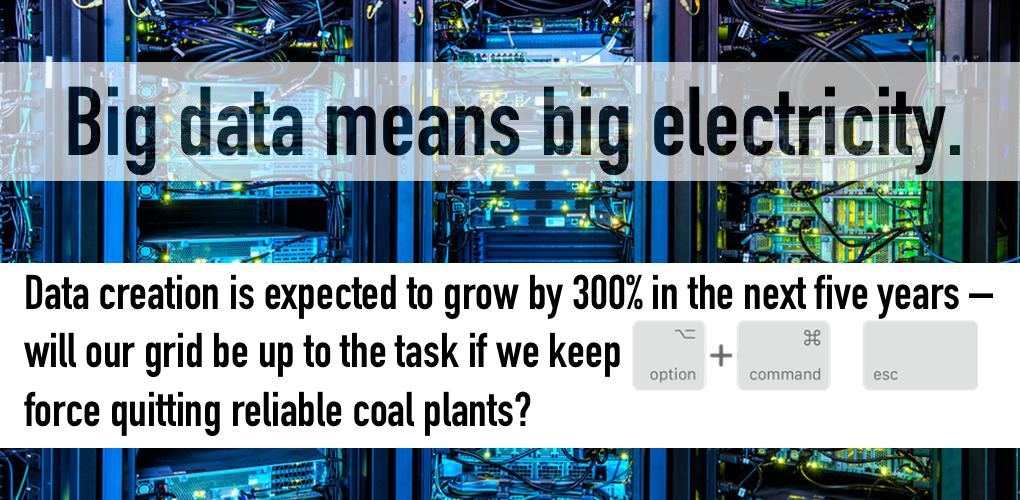 It may not have blast furnaces and assembly lines, those iconic symbols of heavy industry, but there's a new energy-intensive industry rising right before our eyes and its growth could very well upend forecasts for future electricity demand.
This new heavy industry – and the infrastructure to support it – is the data industry. As Mark Mills, a senior fellow at the Manhattan Institute, writes in the first installment of a fascinating series for RealClearEnergy, the sheer size of the hardware needed to transport, process and store the skyrocketing amount of data we generate and use every second boggles the mind. And all that data requires power and an ever-growing and energy-consuming infrastructure to support it.
Mills cautions that it's nearly impossible to explain just how big the business of data has become but he paints a vivid and telling picture. At the heart of this data infrastructure is the datacenter – huge buildings that are only growing larger and more sophisticated. The world's largest datacenter is located near Reno, Nevada and has twice the square footage as the world's tallest skyscraper, the Burj Khalifa in Dubai. There are more than 5,000 enterprise-class datacenters in the world (think skyscrapers taller than 40 stories) and there are another 8 million small datacenters around the globe.
Like an anecdote out of a Michael Lewis book, Mills describes a new entrant in the niche real estate sector that has sprung up to build and provide mega datacenters. EdgeCore Internet Real Estate is building one of its first million-square-foot buildings in Northern Virginia where a collection of similar firms has already installed the planet's largest concentration of world-class datacenters. EdgeCore, as Mills explains, like all the big datacenter real estate firms, talks more in electricity terms than square footage when describing its projects and goals for development. There's a reason for that.
EdgeCore hopes to build out about one thousand megawatts of digital load in datacenter capacity — that's enough power demand to keep two large coal plants running around the clock. Or in other terms, it's the same amount of power needed for about 750,000 homes. It's an astounding figure, and as Mills cautions, it's just one firm.
All in all, datacenters are already estimated to consume 2 percent of the world's electricity. And to put that number into context, that's 50 times more energy than the world's 3 million EVs consume. It's genuinely a jaw-dropping number, especially considering that rapid EV adoption, all by itself, could increase U.S. electricity demand 38 percent by 2050.
While there are many observers that believe energy efficiency will bridle electricity demand from datacenters and the ever-building tsunami of data, Mills isn't so sure. And for good reason.
Cisco forecasts that in just the next five years, data generation is going to grow by 300 percent. How do you plan for this? How do you prepare for a rise in electricity demand that is all but assuredly going to upend the status quo?
Our electricity markets are not designed to see over the proverbial crest. And, as such, it should be deeply concerning that the foundation of our electric grid – our coal and nuclear plants, our baseload sources of power that meet 50 percent our electricity demand – is slipping way just as we need it most.
Consider today's flat electricity demand the calm before the storm. As our coal and nuclear plants are forced into early retirement, mainly due to a flawed market that doesn't properly value their inherent strengths, there will be no bringing them back once they're gone.
The uncertainty of future electricity demand – particularly demand driven by a new, essential industry that requires around-the-clock power – is just one more reason, in the long list of reasons, to act to keep today's well-operating and essential baseload power plants a part of our electricity mix.