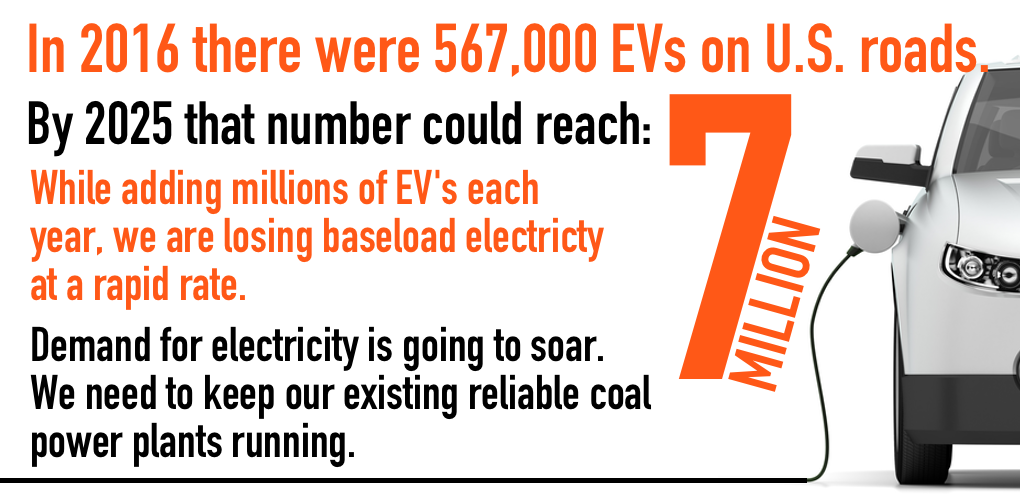 Those who claim there is no need for intervention to support baseload power plants often point to flat electricity demand as the basis of their reasoning. And to their point, utility electricity demand has been flat for a decade. Gains in energy efficiency and the outsourcing of heavy industry have contributed to this. But their confidence in demand remaining flat might be misplaced. As any historian will tell you, assuredly speaking about the future while pointing to yesterday's trends is often a fool's errand.
The reasons for concern over the loss of baseload power plants are many, even if electricity demand remains flat. But, how concerned should we be if demand is poised to soar? Cue Mr. Musk.
A new study from the U.S. National Renewable Energy Laboratory (NREL) projects that electric vehicle (EV) adoption could increase U.S. electricity demand 38 percent by 2050. Utilities could go from stagnant electricity demand to compound annual growth rates of 1.6 percent. While that percentage growth doesn't match some periods of growth from previous decades, the sum jump in terawatt hours of electricity demand is enormous. The report calls this kind of growth in demand "unprecedented."
Under NREL's "high" scenario, plug-in EVs would account for 76 percent of U.S. vehicle miles traveled in 2050. While that's an aggressive projection, it joins a chorus of forecasts that see electrification reshaping how energy is consumed in the transportation sector.
The debate over EVs has shifted from whether they can overtake their internal combustion engine competitors, to how soon they will do it.
At the close of 2016, there were 567,000 EVs on U.S. roads. By 2025, the Edison Electric Institute forecasts 7 million. The International Energy Agency expects as many as 220 million EVs on the world's roads by 2030. OPEC expects north of 260 million by 2040. BP, more than 300 million by 2040. And Bloomberg New Energy Finance (BNEF), a research group bullish on EV adoption, more than 500 million.
As BNEF has projected, EVs will cost the same as gasoline-powered cars by 2022 (perhaps sooner), marking the point of mass-market liftoff for their sales. In larger and larger volumes, oil consumption for transportation will be replaced by electricity.
Is U.S. energy policy ready for this shift in energy demand? It doesn't appear so.
We are losing the baseload sources of power the grid will desperately need in the years ahead. Increased electricity demand appears to be just over the horizon–too far out to help coal and nuclear plants facing economic trouble, but close enough that it should shape current policymaking.
Billions upon billions of dollars in subsidies for renewable sources of power, overzealous regulation and the current glut of U.S. natural gas have combined to push hundreds of well-operating coal plants into early retirement. Another 12 GW of coal capacity is expected to be lost this year if action isn't taken. Those losses will only be compounded by additional retirements of nuclear power plants. As much as half of the nation's nuclear fleet is in economic trouble. Once these baseload plants – the very foundation of our grid – are lost, they aren't coming back.
Eroding energy diversity (see New England and Florida) will pose increasing challenges should electricity demand jump. Opposition to new energy infrastructure, namely pipelines, along with growing gas exports, could leave American electricity consumers in the lurch. The growth in wind and solar power, and today's stubbornly cheap natural gas, could well be a façade covering deep structural problems in electricity markets.
Add the EV revolution and associated soaring electricity demand to the myriad reasons we need decisive action to keep our existing coal and nuclear power plants running. The future appears increasingly uncertain. It's all the more reason we need a diverse, resilient electricity mix to ensure we have the reliable, affordable and secure power that is the bedrock of our economy.