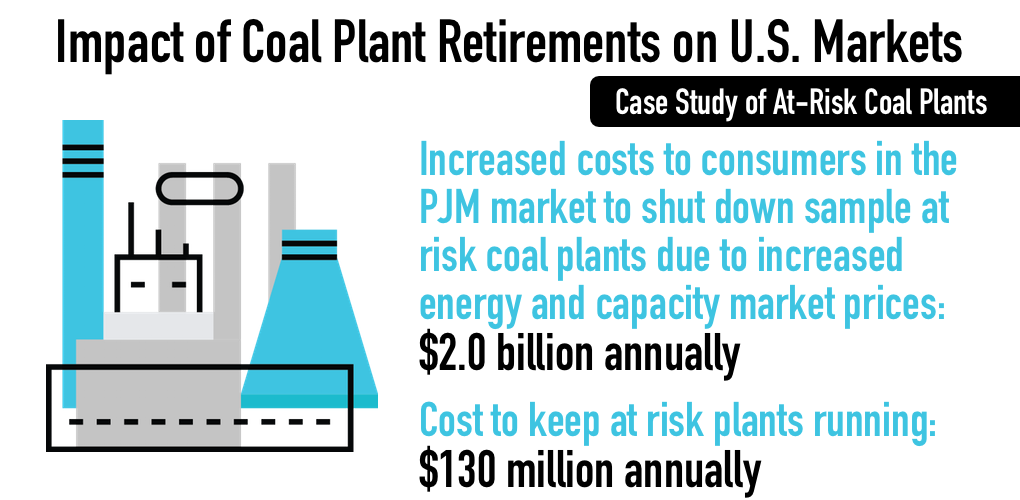 The unfolding crisis of baseload retirements has been well documented in this space. Despite gathering warnings from the engine room, the grid has managed to rearrange the proverbial deck chairs to make it at least appear that all is well even as our tanker takes on ever-increasing amounts of water.
However, the loss of more than 600 coal units since 2010 – enough generating capacity to power more than 50 million homes – can't be shrugged off. Even as we remain relatively unscathed after flirting with disaster, the sheer rate and volume of baseload retirements have us firmly fixed on the brink.
Those concerned about baseload retirements and eroding grid reliability have rightfully said that cost shouldn't be our primary focus in bolstering infrastructure so critically important to our security and economic health. But while supporting at-risk plants will have costs, we have failed to explore what the cost of not supporting at-risk plants might be. A new study from Energy Ventures Analysis (EVA) gives us a very good idea.
Eschewing interpretations of policies that don't yet exist (here's looking at you Brattle), EVA's study – indeed a case study – is an economic analysis of three at-risk coal units in the PJM marketplace. It relies upon hard data to calculate what it would cost to keep these units running and provides us an in-depth analysis of what it will cost consumers if the three at-risk plants prematurely retire. Specifically, the study shows:
Cost to keep at-risk plants running: $130 million annually.
Increased costs to consumers in the PJM market to shut down sample at-risk coal plants due to increased energy and capacity market prices: $2.0 billion annually.
Capital cost to replace coal plants with the same amount of Combined Cycle Gas Turbines (CCGT) capacity: $5.7 billion.
Targeted support to these three at-risk merchant power plants is 15 times less expensive than allowing them to retire. EVA's study shatters the myth that it's categorically cheaper to close at-risk capacity.
Beyond the dollars and cents benefits of providing targeted support to at-risk plants, EVA's study also illuminates why stopping further coal retirements is so vital to the resiliency and reliability of the grid.
When the grid is pushed to its limit – in the PJM market the test has come during periods of bitter cold – coal power plants play an unmatched role in providing resiliency.
Non-dispatchable wind and solar power are of no use in meeting demand where it's needed most and when it's needed most. Nuclear plants run full-on nearly all the time, meaning despite their critical role in providing reliable, baseload power, they can't ramp up generation in periods of peak demand.
Natural gas units, while capable of quickly ramping up generation, often don't run, or can't run, during periods of bitter cold due to fuel constraints. Natural gas pipeline capacity is used to meet heating needs first, meaning gas supply for electricity generation either isn't available or is exorbitantly expensive. To this point, EVA's study found that:
Across PJM, 23 percent of the total generator outages during the 2014 Polar Vortex were due to interruptions of natural gas supply.
On the peak day of winter demand January 7, 2018, almost half of the PJM natural gas capacity could not supply power from natural gas, with 30 percent offline and 20 percent burning oil instead of gas.
The bottom line is this: fuel diversity matters. And, make no mistake, unless action is taken to rebalance the electricity marketplace, our fuel diversity will continue to erode. The result won't just be higher prices for consumers but a less reliable and resilient grid.
Let's also not forget how we arrived here. Baseload capacity isn't being pushed into early retirement by accident. The electricity marketplace has been shaped by tens of billions of dollars in out-of-market subsidies, portfolio standards and years of relentless, heavy-handed regulation. Lasting damage has been done that can't just be fixed with regulatory rebalancing. Ensuring our baseload sources of power remain on the grid will require fixing market flaws that undervalue their unique, irreplaceable attributes. As EVA's study reveals, the cost of inaction is far too high.