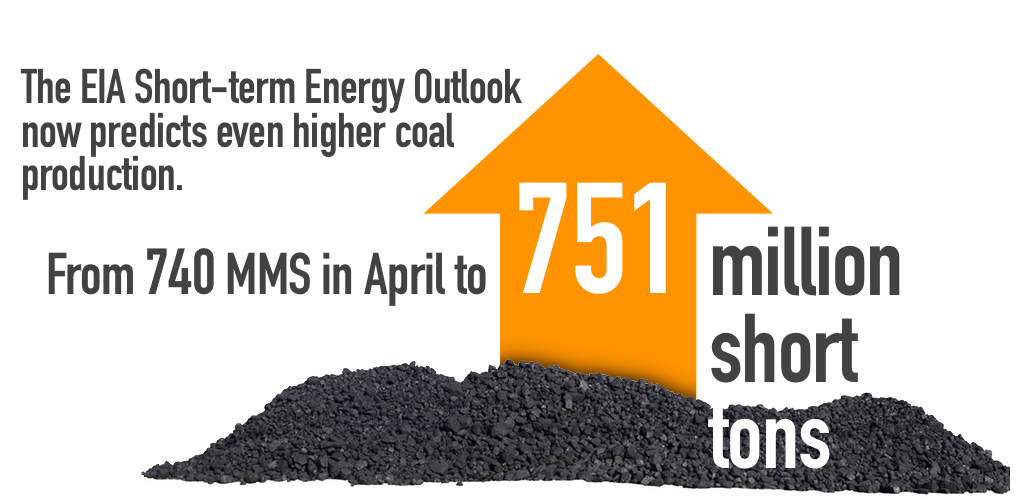 May 14, 2018
Due, in part, to a winter that only begrudgingly and belatedly yielded to spring, this month's EIA Short-term Energy Outlook now predicts higher coal production for the year than it predicted just last month: 751 million short tons, up from 740 MMST predicted in April.
What does this tell you? When it was colder than expected, we needed more coal than we expected.
In the debate over grid reliability and resiliency, assurances that today's system works just fine should not be that reassuring considering anticipated coal plant retirements.
Earlier this month, PJM hinted at the issue when it cautioned that "'heavy reliance on one resource type' raises potential resilience risks beyond existing reliability standards." PJM head Andy Ott expanded, "Are we overdependent or increasingly dependent on one fuel infrastructure? …We don't have a problem now. In fact, we're more diverse than we've ever been, but in some point in the future we may be overdependent on one pipeline."
Indeed. Enter California.
Flashback to 2015, when a gas leak was discovered at Aliso Canyon – one of the largest gas storage facilities of its kind. More than two years later, with the leak plugged, the facility was reopened but operates with a lower limit on gas storage.
A report released last week underscores the consequences, "The SoCalGas system continues to operate at less than full capacity… (which) creates a moderate threat to electric reliability this summer. The more serious threat lies ahead. With so many pipeline outages, it will be difficult for SoCalGas to fill storage to a level sufficient to ensure energy reliability throughout the coming winter."
What is PJM doing to avoid the same fate? They are studying the issue further.
While some remain comfortable studying what studies should be studied, others are growing impatient as more and more reliable and affordable coal capacity is slated to retire.
Testifying before the House Science committee, Energy Secretary Perry said, "I'm looking for a solution. I'm looking for results. Process kind of wears me out from time to time." Sec. Perry also said keeping plants online and able to deliver energy, through national disasters or cyberattacks, is "as important to our national security as anything I can think of."
In response, the Department of Energy is considering a number of proposals including using the Defense Production Act or taking action under Section 202c of the Federal Power Act, it has also issued a RFI on plans to invest in the development of small-scale, modular coal plants, among other ideas for action that can be taken. The important takeaway: DOE is open to ideas and wants to act to protect our grid. Perish the thought that someone in Washington should try to accomplish something.