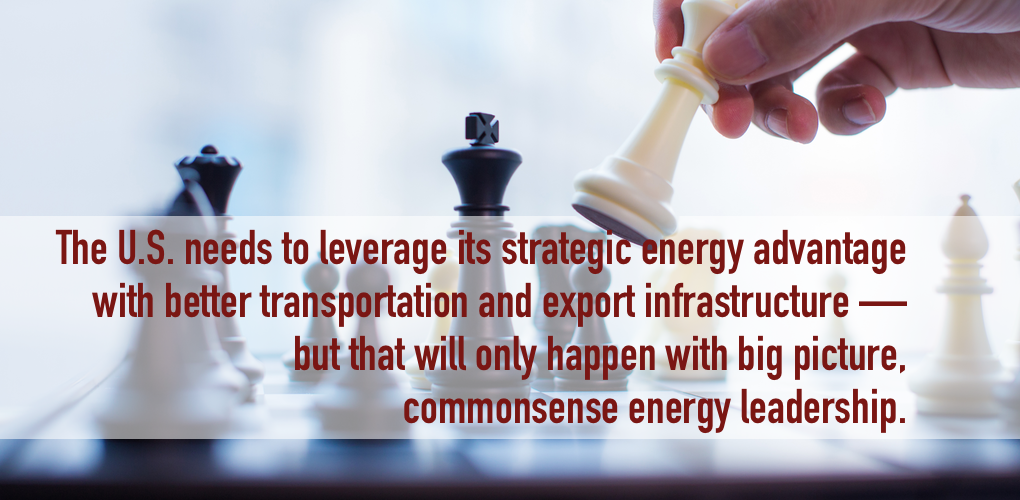 Ever since the 19th century, when European powers vied for dominance in The Great Game, Central Asia and the Middle East have offered rival empires the prize of abundant natural resources. Armed conflict has often been the result. If Japan and Germany were resource self-sufficient, a second world war might have been avoided.
Today the players have changed since Victoria's time, but the rules are much the same. It serves every nation's interest to maximize the use of its energy supply and minimize its reliance on others. The "End of History" is still a dream, not a reality.
Happily, the U.S. is promised not only energy self-sufficiency but the prospect of soon becoming a net exporter thanks to abundant fossil energy. That will help to stabilize manufacturing costs, keep more high-wage jobs here, heighten investor confidence that U.S. industry can remain competitive in a ruthless global market, and lessen the temptation to fight over a dwindling supply of BTUs. China can steal our technology but not our coal, oil or gas.
The U.S. has a greater supply than any other country of a fuel that virtually all major countries want more of: coal. The Energy Information Administration [IEO2017] projects global coal consumption will hold steady from 2015 to 2040 as growing use in India offsets declining use in China and the U.S.
Trade data from the U.S. Department of Commerce show U.S. coal exports totaled 97 million short tons through December, a 60 percent spike over 2016. [NMA International Coal Review] It seemed as if everyone outside of California and Massachusetts wanted more coal.
Appalachian exports accounted for most of the 41.4 million tons of steam coal, which competes favorably on cost with natural gas, and most of the 55.3 million tons of metallurgical coal that developing countries transform into steel. [NMA's International Coal Review] Several met coal mines reopened to meet demand. We'll need them: global steel consumption should increase this year, says the World Steel Association.
It isn't surprising that India and China imported more coal last year; the World Bank estimates a quarter of India's population lacks electricity access. But many European countries also used more coal, raising the possibility that our coal can be to Russia what Permian Basin gas is to OPEC – a formidable U.S. competitor. Japan and Korea also intend to use more coal to fuel the advanced coal plants they will build in the wake of Fukushima's impact on nuclear power. [S&P Global 12/19/17]
Offshore demand also accounted for much of the impressive job growth in coal mining last year. This underreported phenomenon – a 15 percent increase over the first quarter of 2017 that brought our job total up to 82,840 [MSHA] – holds together thousands of families in hundreds of small communities across the country.
The U.S. can leverage still more value from its strategic energy advantage with better transportation and export infrastructure. China, Japan and Korea want more low-sulfur coal, which we have in abundance. The world is willing to pay for our fossil energy, so let's make it easier to sell.
We could, if not for naysayers. Environmental objections to export facilities like the Oakland, Calif. Bulk Terminal and the Millennium Bulk Terminal in Longview, Wash. are bogus. Studies show steam coal from the U.S. West helps Asian consumers reduce environmental impacts by replacing the region's high-sulfur coal with the Powder River Basin's low-sulfur brand. [Wolak, Stanford University, 2016]
Nevertheless, unimpressed by facts or logic, California's AG supports Oakland in blocking coal storage on site, while Washington State blocks the Longview project, prompting a Jan. 3 lawsuit by coal producer Lighthouse Resources Inc. alleging a violation of the commerce clause.
Judges shouldn't have to adjudicate what is in the national interest in this case. Enlarged port capacity in the coastal Northwest can help the U.S. exploit a promising Asian market – for the global environment, for Asian consumers as well as for the U.S. economy.
It just takes big picture, commonsense leadership. There's the rub.  Our rivals are playing the Great Game again. What game are we playing?