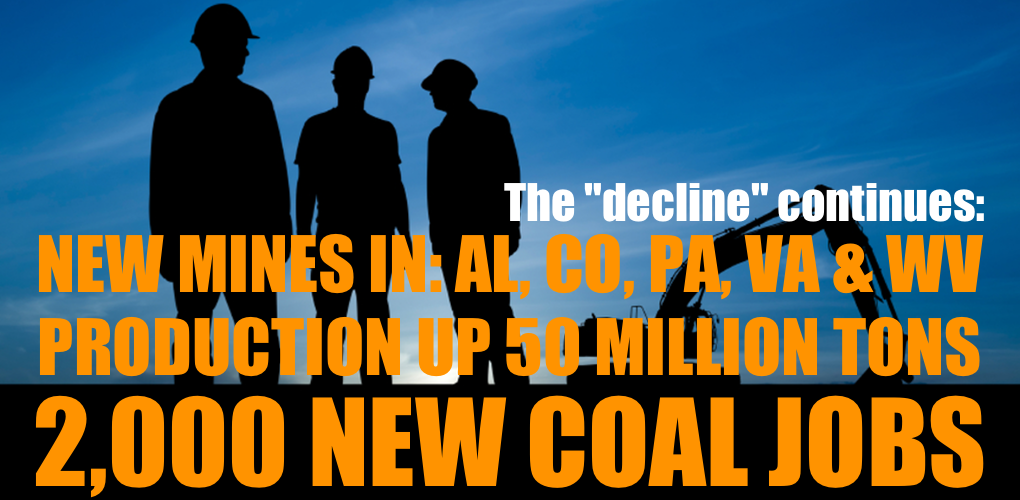 June 15, 2017
Look hard enough at politics and you will always find irony. That's why it "makes strange bedfellows."
Here's one recent example. President Trump's support for the coal industry, together with his regulatory re-set that helped to revive it, has made coal a surrogate for him – a president the major media deeply dislikes.
This helps to explain why some appear eager to belittle the comeback in coal employment, coal mines and coal production that Trump promised. Whatever the president likes must be bad; whatever he aids must fail. The president has tied himself to a dying industry, they say. It's the same "government-can't-bring-them-back" narrative familiar to anyone who recalls the GM bailout.
Well, postpone the funeral. Coal has added about 2,000 direct jobs in the last year – 1,700 just since December 2016. Mines are expanding and new mines opening in Alabama, Colorado, Pennsylvania, Virginia and West Virginia. Year-to-date production is up about 50 million tons, rail loadings are climbing despite a mild winter, coal consumption for power generation was up 5.3 percent in March YTD [EIA "Electric Power Monthly"] and both prices and exports are expected to tick upwards this year.
Well, they say, coal will never return to its dominant position, a surreptitious way of pushing back the goalposts to ensure the Trump administration's "failure." But few if any in the industry claim it can regain the throne it held before the shale gas revolution.
This narrative conceals another, more disputable rationale. Saying irreversible market conditions ensured coal's eventual collapse not only renders Trump's assistance futile. It also exonerates Obama's regulators of any blame for massive job losses and impoverished mining communities.
One recent piece in The Washington Post neatly reprised this death watch narrative by contrasting the slow growth in coal jobs with the rising numbers of fast food workers.
Comparing jobs that pay on average $84,000 a year plus good benefits to seasonable employment paying the minimum wage is silly. Would you illustrate the hollowing out of big-time journalism by contrasting the decline of editors at major dailies with the rising number of Uber/Lyft drivers?
The same article arbitrarily chooses 1985 to document the high tide in coal jobs, suggesting the steady slide in employment that followed pre-dated any impact from Obama-era regulations.  Except coal employment climbed by 32 percent from 2000 to 2011, when the Mercury and Air Toxics rule – not gas – steadily began forcing almost 20 percent of coal-based power plants out or production and took coal jobs with them. No plants, no jobs.
What would the impact be on editorial jobs had regulators destroyed a fifth of all newspapers?
Last week, administration officials were corrected for claiming 50,000 new coal jobs. Fair enough, but their error is understandable: BLS's monthly "Current Employment Statistics" includes oil and gas jobs in its "mining" category, giving the unwary a misleading jobs picture.
But if coal jobs were occasionally overstated, some press reports understated gains in coal jobs by relying on BLS data that omit contract workers – about 33 percent of all coal miners. This sizeable category is included in the Mine Safety and Health Administration's quarterly data, which are based on actual reports from the mines, not broad multi-industry surveys like BLS data.
So, for the correct total, add another third to the BLS coal jobs total. Not bad for an industry slowly recovering from an eight-year attack by a hostile administration.