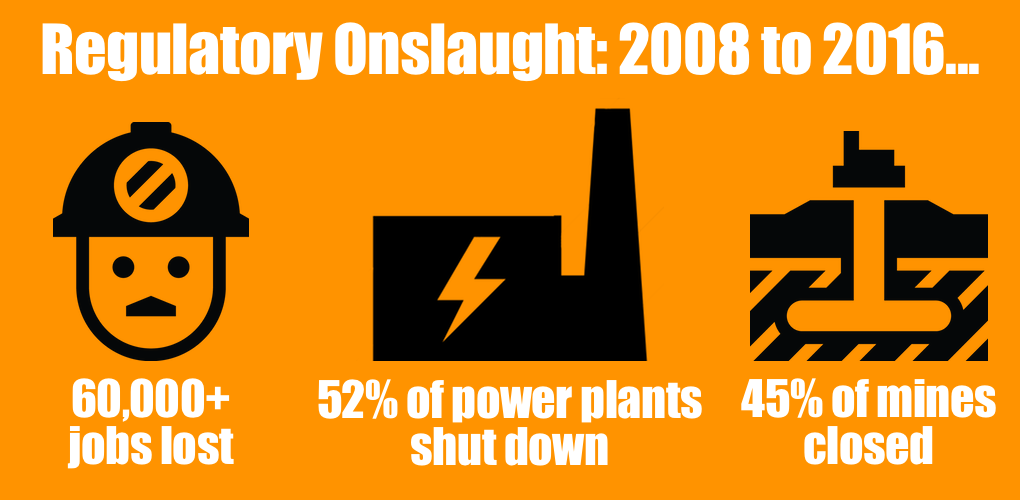 November 22, 2016
Tens of thousands of people connected to the coal mining industry suddenly have something to be thankful for on Thanksgiving.  It isn't only miners that are facing a brighter holiday season. It's the many others whose livelihoods depend on coal miners to keep the proverbial turkey on the table. Some work in power plants, own the diner near the mine, teach in a local school or provide one of the many services the industry needs to run coal.
It's deplorable what happened to many of them over the past several years. Partly because of tough market conditions families lost breadwinners, but also because their government – urged on by once influential activists – resorted to aggressive regulation based on real and imagined authority to drive down their industry. From 2008 until the last few quarters of 2016, coal lost 64,000 direct jobs [MSHA], more than half of its power plants (52%) and close to half of its mines (45%).
Administration officials say market conditions would have ended coal's reign anyway, even without its regulations. Then why did we need the regulations?
If coal's decline is inevitable, then none should fret when the incoming administration and the new Congress lift the regulatory burden.
For those who aren't buying the administration's line – who agree with IEA's 2016 Outlook that government policies could be decisive — the president-elect's pledge to free coal production from arbitrary constraints will be welcome. Lifting punitive rules like BLM's coal lease moratorium, OSM's stream rule and EPA's Clean Power Plan offers coal what it has a right to expect from government. Not favor, just fairness.
Coal communities will give thanks for that.