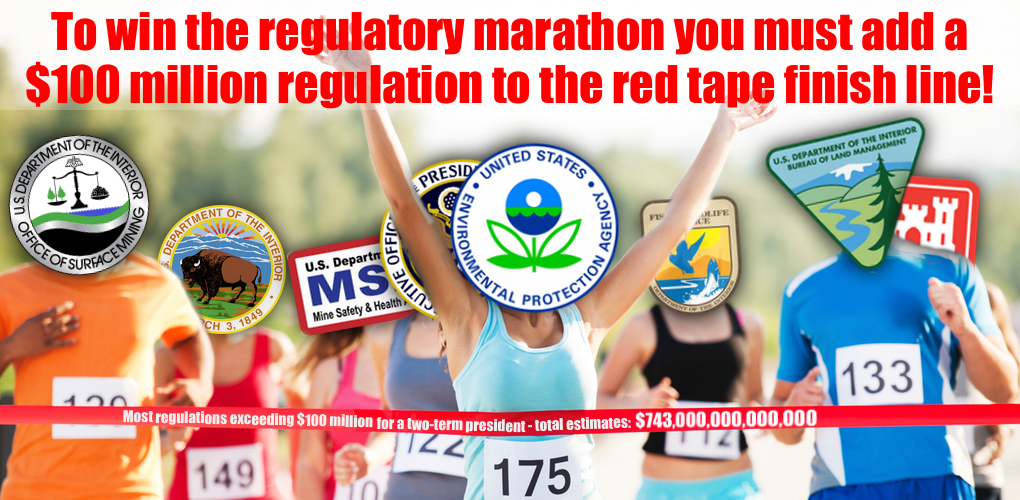 Washington, D.C. – The games got underway this weekend and already Team USA has claimed a coveted gold medal. But not in Rio.
Actually America won the prize here in Washington, for most regulations exceeding $100 million for a two-term president. With an estimated cost of $743 billion for it regulatory marathon – larger than the GDP of many of its competitors – the administration took top spot on the podium, pulling ahead with a series of late term anti-coal rules that narrowly beat silver medal winner China and bronze medal winner Venezuela.
The US, a dark horse before the event began, nevertheless won by imposing on its economy an average of 81 big, suffocating regulations a year, according to judges at the American Action Forum. The 600 regulations churned out by the president's regulatory agencies, more than any of its Asian and Latin American rivals, is a mark unlikely to be bested for years, said long-time observers. "Truly astonishing," said an admiring EU bureaucrat from Brussels. "This is a record-shattering performance that will leave bureaucratic teams from Angola to Zaire re-examining their techniques for stifling job creation and economic growth."
Accepting the gold medal on behalf of the Obama administration was Environmental Protection Agency chief Gina McCarthy. Cheered on by deep-pocketed environmental organizations, she led a powerful administration team that is largely credited for shutting down a once vibrant coal industry and putting tens of thousands out of work with rules like the Clean Power Plan and Stream Protection Rule — even as miners struggled to compete with subsidized renewable fuels, weak export markets and low natural gas prices.
"I gratefully accept this honor on behalf of the administration's entire regulatory team," said McCarthy. "From my own EPA to the many agencies in the Department of the Interior, we've trained tirelessly to devise new legal interpretations in support of regulatory efforts against blue-collar workers."
President Obama issued a congratulatory statement from his vacation home in Martha's Vineyard: "Without the determined efforts of my team to rid the country of high-wage jobs and inconvenient industries, stronger economic growth would have put us behind Bangladesh and Burkina Faso in the global race to reduce carbon emissions."
McCarthy dismissed accusations that her Clean Power Plan, stayed by the Supreme Court, should have disqualified the U.S. from the 2016 competition. "We have scrupulously followed the rules as interpreted by NGO lawyers," said McCarthy. "In fact, they wrote the regulations we implemented." Anyway, she added, "rules are for fools" – noting even when EPA broke rules in the past "we still got what we wanted."