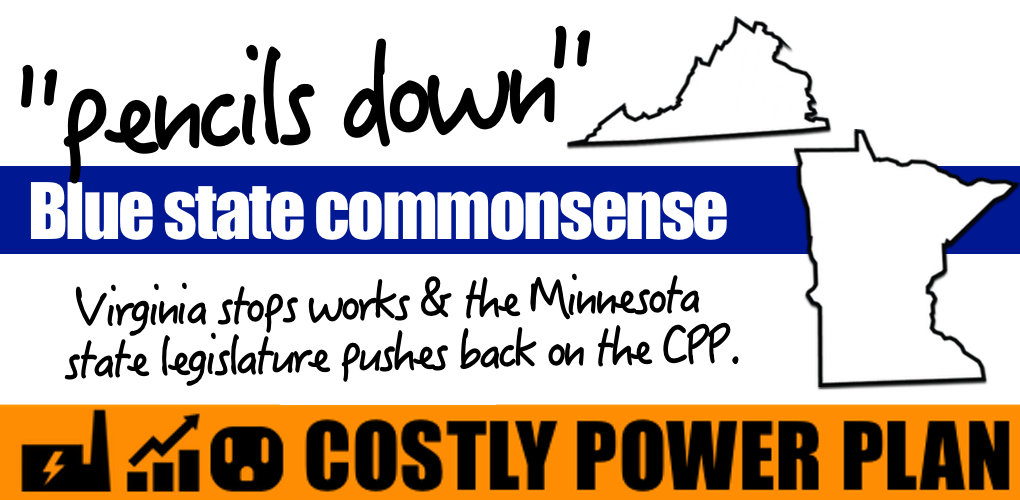 April 27, 2016
Virginia and Minnesota, two states run by Democratic administrations, are seeing red over Obama Administration's Clean Power Plan (CPP).
In Virginia, the House of Delegates voted to forbid the Department of Environmental Quality from spending state money to implement the CPP. In defiance of its governor and the president, Virginia's legislators refused to impose higher electricity costs on the Commonwealth from an Environmental Protection Agency (EPA) rule that no longer has the force of law after the Supreme Court's February 9th ruling to block it.
Thanks to the legislature, the McAuliffe administration can no longer work on a CPP compliance plan "unless the stay issued by the Supreme Court is released."
In Blue State Minnesota, the legislature is advancing a bill to stop Gov. Dayton from squandering taxpayer money and state resources on an EPA regulation likely to be ruled unlawful. Calling the high court's ruling "disappointing," Dayton had insisted on gambling with the state's economy that derives more than half its electricity from coal.
Even before the Supreme Court ruling, 27 states sued EPA to block the CPP.  Now Blue state legislatures are lining up behind Red states like Wyoming to say: put the pencils down on the CPP.